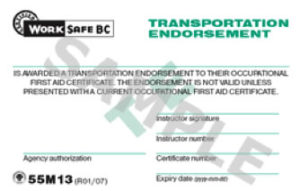 DATE: Last Sunday of each month
Surrey Location
8 Hours
Time: 8:30 –  4:30
Please contact us for groups of 6 people or more.
A one day  –  8 hour add-on course for OFA Level 1 and 2 attendants.
This course covers hard collar application and securing (immobilizing)
a patient on the spine board in preparation for transport.
Prerequisite is a valid OFA Level 1 or 2 certificate.
Valid for 3 years or until the expiry of the OFA Level 1 or 2 certificate.
 Certificates are issued at the end of the course upon successful completion.