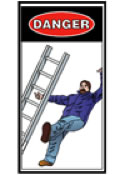 We only do groups of 6 or more.
Please contact us to book your dates.

Ladder Safety Training Program
Provinces across Canada regulate the use of ladders in all workplaces because the improper use of a ladder could cause significant injuries. Anyone who uses a ladder must comply and obtain the necessary training in order to:
Reduce or eliminate worker injuries
Avoid worker compensation premiums
The program complies with all the necessary regulations and is produced in order to accommodate various learning styles filled with graphics and video to make it easy to understand, memorable and accurate.
Modules
Hazard identification and control
Ladder selection
Inspection procedures
Safe Ladder Set-up and use
Proper care, transportation & storage
British Columbia Legislation Workers Compensation (Occupational Health and Safety) Amendment Act 1998 Part 4 13.6 Use restrictions                                                                                                                                             (1) If work cannot be done from a ladder without hazard to a worker, a work platform must be provided.
(2) A worker must not carry up or down a ladder, heavy or bulky objects or any other objects which may make ascent or descent unsafe.